Sensavis Visual Learning Tool
Sensavis Visual Learning Tool
When you have installed Sensavis, you have access to realistic and detailed digital models within six subject areas: biology, chemistry, physics, geography, mathematics and engineering – click on the link to see an overview of the subject module. At least twice a year, Sensavis releases new content that all users get access to. You will find a detailed table of content here.
Teacher Sofia Kruth and her students at Sandhultskolan in Sweden. Learn more about Sofia's work here.
This visual learning tool is completely interactive, you choose what content to show. You can rotate the objects, zoom in and out, and interact through changing parameters, showing your students connections. When you have chosen what object to show, you can control the object with your mouse or, on a touch screen, with your finger or stylus.
The minimum requirement for any school to start working with Sensavis Visual Learning Tool to teach, create, and activate is access to one Windows computer or Apple iPad. Use the device to display visualizations in the classroom, to create flipped classroom videos that can be shown on any device, or to activate students by letting them work with the content.
Schools with Chromebooks can activate students by working Sensavis' library of silent videos or teacher created videos. Schools with Microsoft Windows or Apple iPad environments can install Sensavis directly on student devices.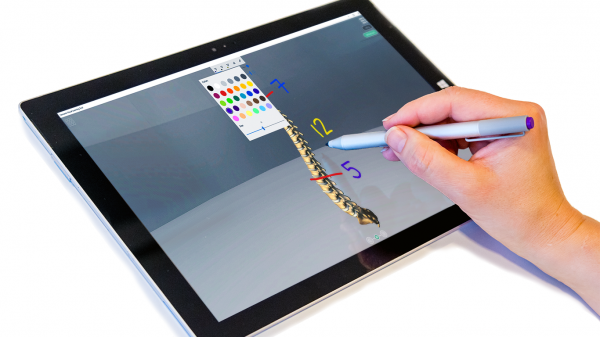 Inking in Sensavis Win 10 app. Learn how to use it here.
With Sensavis Win 10 app, you choose what content to download, and when to download it. This means that you can tailor the software to your specific needs.
Sensavis Win 10 app features inking, allowing you to write and draw directly on the visualizations. Use the tool to further explain or highlight important information, customize your own teaching materials, or even use Sensavis as the basis for an assessment.
The digital whiteboard in Sensavis Win 10 app lets you draw and write on a black, white, or semitransparent screen without having to exit the app. See a tutorial on how to use the inking and whiteboard tools in Sensavis here.
System requirements and details.
Download a 30-day free trial of Sensavis Win 10 app!